Two Best Gaming Headphones
Now a day's games are very advanced so are the PCs. Whether action paced or graphic oriented games they give you realistic experience.
But the only drawback in such a powerful system is the lack of sound system. Although all the modern monitors come with speakers but still their sound is not acceptable. So, to overcome this short coming we are here with the best headphones.
Whenever a mic is attached with headphones then they are called headsets. In advance games they should be the part of your PC otherwise you can't be a pro gamer.



The advantage of headphones is that they give you a very pleasing sound and also you can locate your enemy with footsteps specially in head to head combat games. Let's begin what really matters
HyperX Cloud Revolver S
Their performance is not remarkable only in games but also outside the games. With durable build quality and amazing comfort, they are simply the best.
Design
Upon first look these headphones will impress you due to the black and white color combination though black is more dominant.
The white color is only highlighted on the earcups and the headbands. Along with this there is red LED which only appear from the USB control box.
The build quality is more durable and even more impressing. As you can see the headset is made from smooth steel frame giving you a very pleasing touch.
You might know that steel is notorious for noise when brushed but being covered with rubbers the noise is minimized.
Sound Quality
Sound quality of headphones is the factor that make them worth of buying. There is no need of additional setup or software, just plug the USB device in, click the button and its ready to go.



The driver is 50mm which produce crisp and crunch sound in games even at the time when high explosions are occurring.
Although due to Dolby DSP some noise is heard but it is quickly covered up and the overall noise-to-signal ratio is acceptable. This noise is mostly noticed when listening to music which started quiet and more then one note played at a time.
SteelSeries Arctis Pro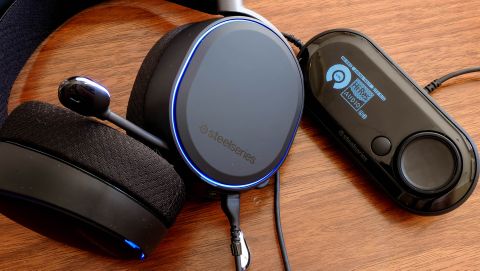 This headset provides immersive sound quality both in games and music. Many gaming headphones being designed for games only do not give acceptable sound while listening to music.
But Arctis Pro with a built-in DAC gives you next level sound quality at the time you are listening to your favorite track.
Design
Design of Arctis Pro can be summarized in just one word that is elegance. Competitors of this best gaming headset are constantly trying to develop such design but not one has surpassed it yet.
This headset comes with classy, matte look and ergonomic design. The headband is made up of steel and the underside is padded.
Moreover, the earcups flaunt removable plates with a coat soft touch paint and extremely soft cushions. On top of that in the box you will find a secondary headband so you can choose one which fits you perfectly.
A gamer look is given to the headset due to running LED on the earcups. Moreover, the mic capable of twisting in any direction comes with own LED light that glows when muted.



Sound Quality
So far, the best feature of Arctis Pro is the digital to analog audio converter which is specially designed for gaming. Although most gaming PC's have their own converter but being the best of SteelSeries it will override them.
One other noticing factor is that this headset has its own amplifier circuit. As a matter of fact, it does not give the headphones a lot powerful sound but it does help in minimizing the distortion.
Further, the OLED screen allows you to adjust volume, EQ curve, sidetone, LED colors and ChatMix. Along with this DTS can be switched on/off with it by pressing button to toggle virtual surround sound.
Bottom Line
Anyone who wants to be a pro gamer and looking for the best gaming headphones then they should go for these two headsets.
They offer amazing sound in both games as well as listening to music. One sad part is that their price tag is a bit higher but if budget is not an issue for you then they won't disappoint.